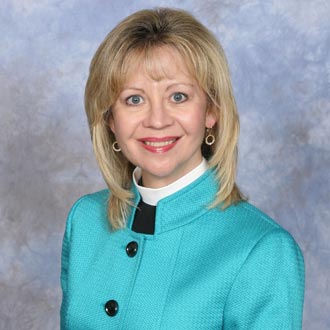 Susan Crowell
SENIOR PASTOR
The Rev. Susan J. Crowell has a Bachelor of Arts in Psychology from Furman University and a Master in Divinity from Lutheran Theological Southern Seminary in Columbia, SC.
Susan came to Trinity in 1993 for a one-year pastoral internship and never left! She was called to serve as the Associate Pastor in 1995 and Senior Pastor in 2001  She has served on the SC ELCA Synod Council, the SC Synod of the ELCA Executive Committee, the SC Synod Finance Committee, and on the Board of Trustees of the ELCA Foundation. She currently serves on the Board of Trustees for Lutheran Homes of SC and is a member of the SC Synod Candidacy Committee.
Susan and her husband Mark are adapting to life as empty-nesters as their daughter Elizabeth begins her college career at Furman University.  In her free time, Susan enjoys traveling with her family, reading, yoga, scrapbooking, and cooking healthy food.
Jim Parham
Associate Pastor for Worship and Music
Rev. Dr. James C. Parham III (Jim) has a Masters and Doctorate in Church Music from Northwestern University, he has served congregations with his musical talent for 30 years. Jim became an ordained Lutheran pastor in 1997 (AB from Princeton University, Masters of Divinity from Lutheran Southern Seminary) and pastored three congregations in South Carolina prior to joining us. The best part about his role at Trinity is getting to know the marvelous, faithful, good-humored and loving people. When he's not here, Jim is soaking up time with family, experiencing the beautiful outdoors or playing music.

Ellen Clough
Vicar
Ellen graduated from Lenoir-Rhyne in 2013 with a Bachelor of Art in Religious Studies. She received her Master of Divinity from Lutheran Theological Southern Seminary in 2017. Ellen joins the Trinity Staff for the 2017-2018 academic year serving as the Pastoral Intern. Ellen has found Trinity to be dedicated to the Gospel message of God's love and inclusivity for all people. Ellen enjoys the vibrancy of downtown Greenville where she likes to try new restaurants. In her spare time, you can find her cooking delicious food, crafting, reading, or spending time with friends.
Mandi Whitley
Director of Youth and Children Ministries
Mandi completed a Bachelor of Arts at Meredith College and a Master of Arts in Religion at Lutheran Theological Southern Seminary, She has been serving at Trinity since 2008, where she values the congregation and her co-workers. In her free time, Mandi enjoys spending time with her husband and daughter, going to the gym or for a run, taking in an activity in Downtown Greenville and cheering on the N.C. State Wolfpack.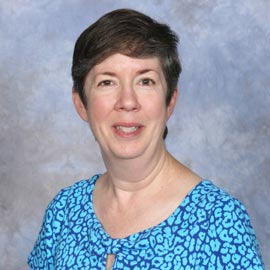 Amy Brown
Director of Educational Ministries
Amy graduated from Lenoir-Rhyne University and Lutheran Theological Southern Seminary. Before coming to Trinity in 1993, she served First Lutheran Church in Albemarle, NC. Her favorite thing about Trinity is the multi-generational atmosphere, especially in Sunday School, as well as Bible School. In her free time, she enjoys reading, crafting, and playing pickleball.
Kay Cook
Office Manager
Kay attended Winthrop University and spent her career in customer service, working for Liberty Life Insurance for 19 years prior to joining Trinity in 2007. She is a lifetime member of Trinity and loves that her faith has been cultivated in a church family that shows God's unconditional love every day. In her spare time she likes to travel with her husband and spend time with her children and granddaughter. She is proud to call Greenville her hometown.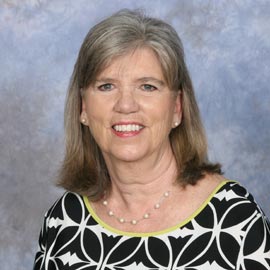 Karen Craig
Administrative Assistant
Before joining the team at Trinity in 2006, Karen worked as a stock adjuster in New York City and a nurse in Rochester. After living in upstate NY and southwest Florida, she appreciates South Carolina's weather, as well as the sporting, cultural, outdoor and culinary opportunities here. She especially loves the worship, sense of family and outreach opportunities at Trinity. In her spare time, Karen enjoys spending time with family, walking, biking, taking her grandsons to the park and attending football games.
Lani Wise
Accountant and Publications Coordinator
Lani retired from the SC Department of Revenue after 23 years service and has now served at Trinity Lutheran for over a decade. She loves our worship services and says she felt at home the first Sunday she worshipped here. She also appreciates the church's focus on outreach. In her free time, she enjoys reading, cooking, and spending time with her family and friends.
Roy Cook
 Facility Manager
Roy is a graduate of Newberry College with a Bachelor of Science degree in Business Administration. Prior to joining the staff of Trinity, Roy spent 30 years in the supply chain coordination and facility management field. He loves the rich history of our church and how we continue to build on that history today. A native of Hendersonville, NC Roy loves the views of the mountains in and around Greenville. He enjoys traveling with his wife and spending time with his children and granddaughter. On his day off you can find him walking and playing with his dogs, Lil Abner and Sadie Hawkins.
Beth Oswald
Nursery Attendant
Beth has served at Trinity Lutheran since early 2012. Her background is as Administrative Assistant to the shop Operations Manager of CMC Structural Fabrication Shop. She enjoys spending time with her family and in Downtown Greenville. Her favorite things about her church are Pastor Crowell's sermons and how she is always available to her congregation.