Our History
Until the fall of 1909 there had not been a Lutheran presence in the city of Greenville. On August 29, 1909 a handful of Greenville Lutherans met in the Masonic Hall at the southwest corner of Main and Washington streets to consider plans for organizing a Lutheran congregation. After creating an organizational charter on September 12, twenty-seven members were received into the church on Reformation Sunday of that same year.
In the spring of 1911, members of the Property Committee approved plans to purchase a lot for a future church to be constructed five blocks north of the main city square which is the current site of Trinity Lutheran Church. The Rev. C. L. Miller, Trinity's first full-time pastor, helped lay the cornerstone of the building in March of 1914. Due to the outbreak of World War I, the building of the church had to be postponed. Members worshipped in Sunday School rooms on the property until the Nave and Chancel were completed in 1921.
In the over one hundred years since organization, Trinity has been served by eleven full-time Pastors and a number of other Associate Pastors, Associates in Ministry, parish workers, administrative staff, and other support staff.
The organizing members of Trinity Lutheran Church could not have envisioned the significant changes that have occurred in these more than one hundred years. Today's congregation boasts over 1200 members who support an annual budget of over 1.2 million dollars. Outreach ministries, relational groups, and educational opportunities abound for Trinity members. The church campus has expanded considerably to include the purchase of the adjacent property which currently is home to a number of local ministries and human service agencies as well as Trinity's Youth Center. But more important than budgets and buildings, ministries and membership is the obvious fact that at Trinity Lutheran Church, Greenville, SC, lives are being transformed. The power of God is at work among us enabling us to reach out to our neighbors and share the good news of God's love and grace. These more than one hundred years of ministry serve as a powerful witness to the Greenville community that God is indeed alive at Trinity Lutheran Church. Our fervent hope and prayer is that we, the people of God at Trinity, will remain open to God's calling and leading so that the next century of ministry will continue to bring glory to God.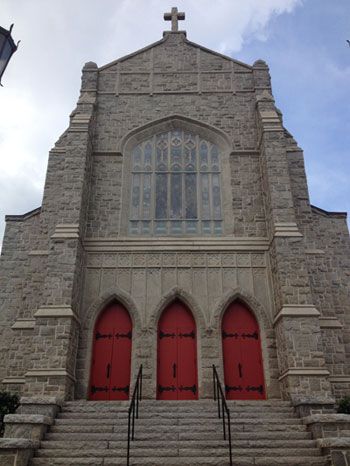 In the Heart of Greenville
Trinity Lutheran Church is located in the heart of downtown Greenville and is recognized as the only church on Main Street. The campus, occupying almost an entire city block, includes the Sanctuary, Education Building, and Activities Building.
Also included in the Trinity Campus is the adjacent Outreach Center that houses local ministries and human service agencies including Lutheran Hospice, BeWell Services, Mental Health America, and Safe Harbor. Trinity's Youth Center is also located in this adjacent facility.
Parking
Parking is provided in an upper and lower lot located between Main Street and Townes Street with entrances provided via both streets. An additional lot is situated next to the Playground with access from Townes Street. Additional parking is available on Sunday mornings on Main Street and in the city lot located across the street from the Sanctuary, the main building featuring the iconic three sets of red doors.